In The News: Waterloo investigative firm seeks the truth, The Waterloo Region Record, April 8, 2015
Posted - April 8, 2015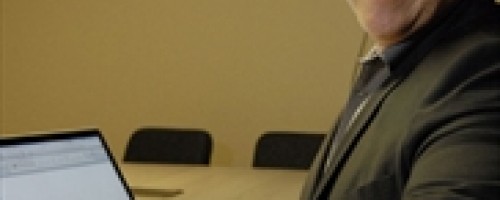 WATERLOO — Dean Benard and his colleagues are private eyes.
So it's all stakeouts and surveillance, disguises and dark alleys?
Once in a while, perhaps.
But more often than not, a typical day involves interviews, research and paperwork. Lots of paperwork.
"People have this idea that they're Nancy Drew, or they're going to be Magnum, P.I., and it's all romantic, driving fancy sports cars.
"We spend a lot of time in boardrooms talking to people, or sitting at a desk," Benard says.
"A fraud case can involve thousands of pages of documentation."
Benard and his team at Waterloo-based Benard + Associates are licensed private investigators, as mandated by Ontario's Private Security and Investigative Services Act.
But they focus solely on regulatory and workplace investigations.
That means no domestic cases, no cheating spouses. "Frankly, I want nothing to do with that," Benard says.
On the regulatory side, the firm might look into allegations of misconduct on the part of a professional, such as a physician, nurse or accountant.
"Members have a responsibility to behave in a certain manner," says Benard.
Quite a few of the company's investigations have looked into allegations of people providing services illegally — for example, a dentist who may never have had dental training, or who may have been removed from the profession.
"Those can be tough investigations," Benard says. "Sometimes we have to go undercover pretending to be patients."
On the workplace side, the firm might look into allegations of bullying and harassment, workplace misconduct, or discrimination under the Ontario Human Rights Code.
Both workplace and regulatory investigations can involve mediation, with an eye to resolving disputes or complaints.
The 10-year-old firm's clients include large and small corporations, governments, educational institutions and 27 of the 29 regulatory bodies in Ontario. It also has clients in several other Canadian provinces, and plans to open an office in September in Halifax to serve East Coast clients.
Benard + Associates also provides educational and training services, with seminars, programs and speaking engagements covering a wide variety of investigative techniques and topics.
Regardless of the type of investigation, one thing remains common.
"Our role is to be neutral, independent fact-gatherers who will do our jobs in an unbiased, fair manner," Benard says. "The stakes are always high with every investigation we do."
And it can be quite a challenging process, when those involved may want nothing to do with the investigators.
"We often deal with people when they're not at their best," says Benard. "We have to find ways to build relationships with those people, and that can be stressful."
The company's nine full-time and two part-time employees boast varied backgrounds, including a former police officer, insurance investigator, lawyer and researcher.
"I look for the right skills — communication, someone who's not easily intimidated, someone who's organized and can work under pressure," Benard says.
He carries an eclectic resume himself, having served as a registered nurse, police officer and a manager of investigations for the College of Nurses of Ontario.
After about five years as an emergency room, trauma and intensive care unit nurse, Benard was hired by Waterloo Regional Police and served as a constable for another five years before rethinking his future.
"I felt I could be more entrepreneurial. At the time, I really didn't know what that was."While furthering his education, he took a job as an investigator at the College of Nurses, and was made a manager within a few months.
Noticing that many of the other regulatory bodies didn't have the resources to conduct their own investigations, Benard decided to start his own business.
With a loan from a friend to get started, he worked solo for the first year before beginning to grow.
Along with the planned Halifax office, Benard expects to hire one or two additional investigators for the Waterloo office in the coming months. He's also eyeing an expansion to British Columbia.
"This can be a very mundane, very dry job at times," he admits.
But it's also quite a rewarding one, one that Benard says he wouldn't trade for anything else.
"The biggest joy I get out of this job is to feel that, at the end of the day, it helps people," he says.
"A lot of reliance is put on the work we do. …. To bring the truth to light so the right decisions can be made is very gratifying."
Waterloo Investigative Firm Seeks the Truth
Brent Davis
The Waterloo Region Record, Waterloo ON
http://www.therecord.com/news-story/5544605-waterloo-investigative-firm-seeks-the-truth/